Amalgama El Prado by Daniel Canogar
Originally screened on the facade of the Museo Nacional del Prado to mark the museum's 200th anniversary in 2019, and now presented for the first time in the United States, Amalgama El Prado is a generative video work created from the museum's entire painting collection, which will be transformed by an algorithm created by the studio of Daniel Canogar, liquifying artworks into a mercurial blend. The pictures will be projected while they slide through the oculus in the ballroom of the Former Residence of the Ambassadors of Spain in Washington, D.C.
Amalgama El Prado seeks to understand how digital media is transforming our experience of the history of art, perhaps updating Malraux's Musée Imaginaire to the digital age. The swirling effects that transform the original artworks evoke the ceaseless flow of information that runs through the Internet, transforming how artworks are consumed, processed and distributed online. Above all, Amalgama addresses the challenge of making, viewing and circulating art in our liquid modernity.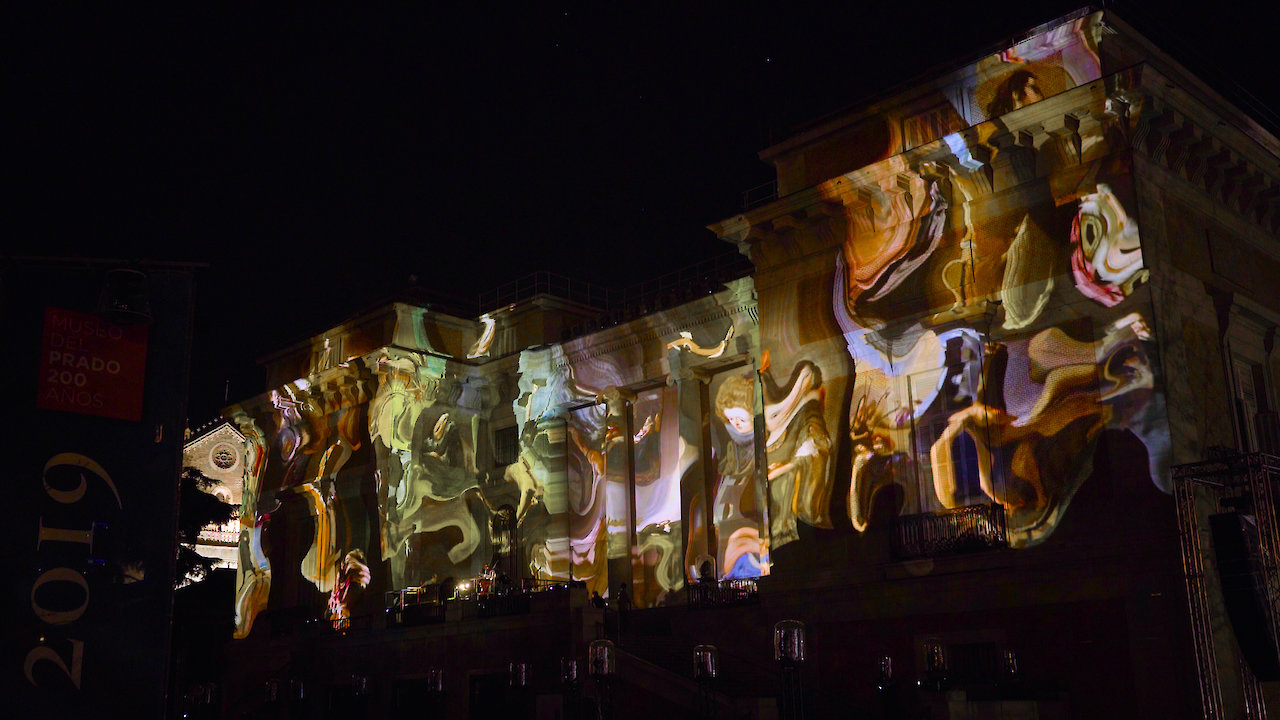 Statement
Memory, and its loss, are a central theme in my work. Unless we remember, we are condemned to an amnesiac present, textureless and flat, lacking the perspective of time.
My artwork tackles such issues in different ways. I have scoured junkyards, recycling centers and flea markets, looking for examples of aging technologies that defined our existence in the not-so-distant past. What we throw away holds an accurate portrait of who we were. VHS tapes, 35 mm films, hard discs, CDs —to name just a few obsolete mediums that I have used in my art— are all depositories of our memories. When tossing them out, we are also discarding an important part of ourselves. By projecting video animations onto old media, I attempt to reignite life back into them so as to reveal the shared memory they hold within.
Our archives are now being transferred from material-based media to online platforms. From Gutenberg's printing press to the DVD, a significant historical arc of material culture has come to a close. Knowledge is now deposited in liquid-like libraries that are ever-expanding, virtual and in constant mutation. The epistemological challenges of this shift are profound, ones that we are only beginning to understand. My dataworks are an attempt to capture, and cognitively process, the implications of these dramatic technological changes.
These artworks are generative and driven by algorithms coded in my studio. They react in real-time to different data-sets, including climate-change information, the barrage of 24/7 news cycles or trending searches on Google. The dataworks are also an attempt to insert generative art into the history of art, exploring unsuspected aesthetic influences including postwar Abstract Expressionism, Performance Art and Op-art from the 1960s.
The ceaseless ebb and flow of information coursing through my artworks has invited me to question their materiality. For example, my large-scale projections on emblematic buildings transform their façades into ever-mutating surfaces. My public-participation projects are a good example of this approach. Using green-screen technology, I often record performers acting out climbing motions that when projected onto a building's façade, create the illusion of their ascent to the top. By "conquering" these buildings, they become active participants of a shared history, rather than mere spectators of an urban reality.
The material stability of the screen itself has also become a source of artistic exploration. Plugged into the internet, the information coursing through my artworks seems to erode their physicality. Screens become skin-like membranes that stretch, twist and fold. Their curving shapes are better streamlined for the constant flow of information they process. After years of research, I have developed a flexible LED tile that allows me to create screens with complex curving shapes. Thus, I can make screens that respond to the specific features of the architecture that contains them.
My sculptural screens invite viewers to seek out multiple perspectives in discovering the artwork, incorporating their movements in and around the work as a crucial component of their experience. To be a spectator all too often means to remain on the sidelines of what we are watching, a numbing experience that provokes alienation and disengagement. I want my artwork to activate an engaged viewer, one that experiences seeing as grounded in a moving sentient body. These heightened states of attention allow memories to settle more deeply. Informed by these more vibrant recollections, I believe we are better equipped to face the many challenges that lie ahead.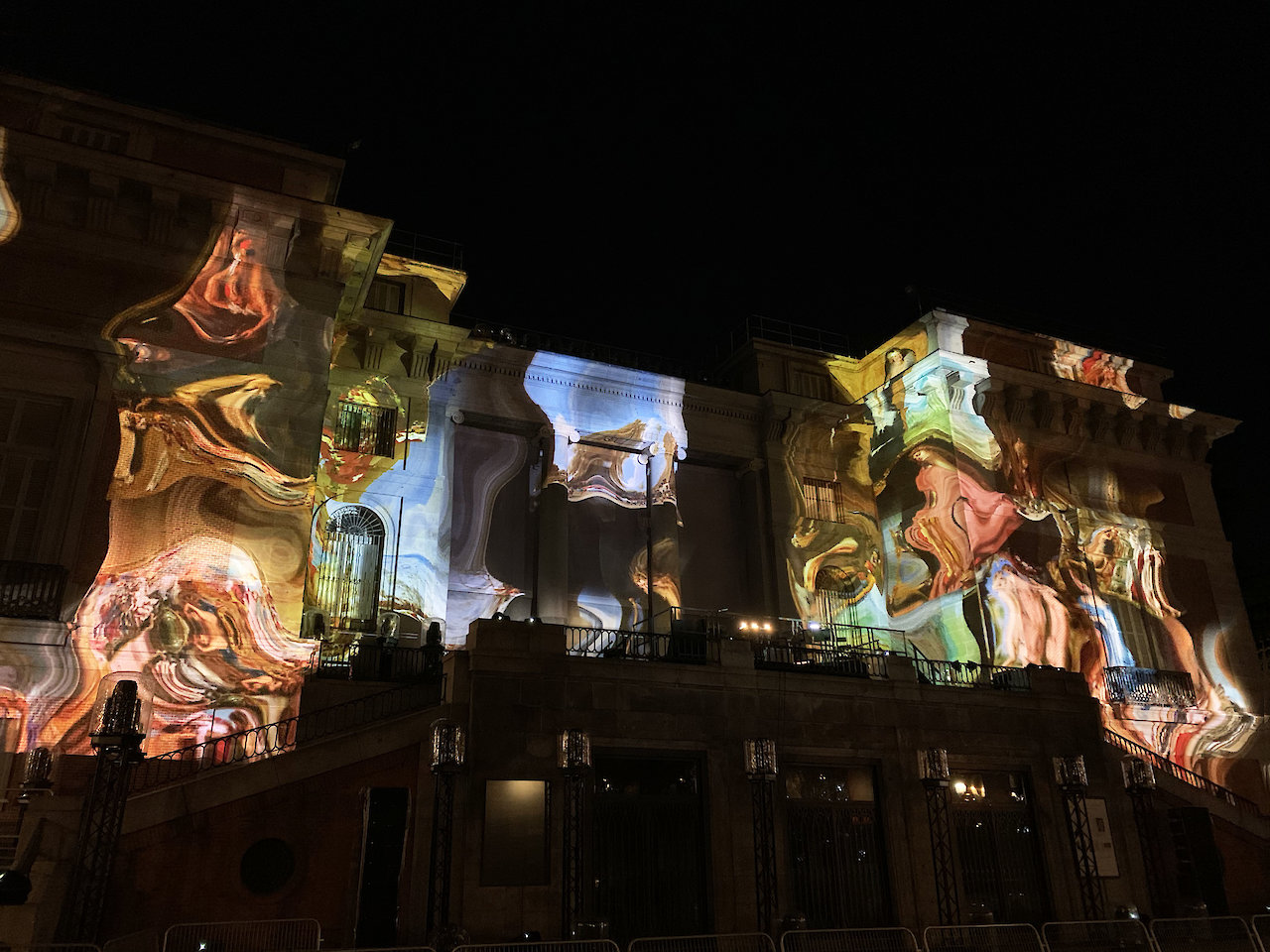 Biography
Born in Madrid (1964) to a Spanish father and an American mother, Daniel Canogar has lived and worked between Spain and the U.S. Photography was his earliest medium of choice, and he received a M.A. from NYU at the International Center of photography in 1990, but he soon became interested in the possibilities of the projected image and installation art.
He has created permanent public art installations with LED screens, including:
Public artworks
He has also created monumental public artworks in different mediums such as:
Bifurcation, a multi-laser projection for the Noor Riyadh Light & Art Festival (Riyadh, 2021);
Amalgama El Prado, a generative video projected on the façade of the Museo Nacional del Prado and created with the Museum's painting collection (Madrid, 2019);
Constellations, the largest photo-mosaic in Europe created for two pedestrian bridges over the Manzanares River, in MRío Park (Madrid, 2010);
and Asalto, a series of video-projections presented on various emblematic monuments, including the Arcos de Lapa (Rio de Janeiro, 2009), the Puerta de Alcalá (Madrid, 2009) and the church of San Pietro in Montorio (Rome, 2009).
Also part of the series is Storming Times Square, screened on 47 of the LED billboards in Times Square (New York, NY, 2014).
Recent shows
Latencies at Anita Beckers Gallery (Frankfurt, 2021);
Billow at bitforms gallery (New York, NY, 2020);
Liquid Memories at sala Kubo-Kutxa (San Sebastian, 2019);
Surge, a temporary installation for the Grand Lobby Wall at Moss Arts Center, Virginia Tech (Blacksburg, VA, 2019);
Echo at the Paul and Lulu Hilliard University Art Museum (Lafayette, LA, 2019); Melting the Solids at Wilde Gallery (Geneva, 2018);
Fluctuations at Sala Alcalá 31 (Madrid, 2017); Echo at bitforms gallery (New York, NY, 2017) and Max Estrella Gallery (Madrid, 2017);
and Sikka Ingentium at Museum Universidad de Navarra (Pamplona, Spain, 2017).
Exhibitions
Reina Sofia Contemporary Art Museum, Madrid;
Wexner Center for the Arts, Ohio;
Offenes Kulturhaus Center for Contemporary Art, Linz;
Kunstsammlung Nordrhein Westfallen, Düsseldorf;
Hamburger Bahnhof Museum, Berlin;
Borusan Contemporary Museum, Istanbul;
American Museum of Natural History, New York;
Andy Warhol Museum, Pittsburgh;
Mattress Factory Museum, Pittsburgh;
Palacio Velázquez, Madrid;
Max Estrella Gallery, Madrid;
bitforms gallery, New York;
Wilde Gallery, Geneva;
Galerie Anita Beckers, Frankfurt;
Eduardo Secci Contemporary, Florence;
The Alejandro Otero Museum, Caracas;
and Artes Santa Mónica, Barcelona.